Distilled water can be harmful to your health. How much do you know about distilled water? We've outlined five reasons to stop drinking distilled water and explain why you should make the switch to drinking water that supports your health instead.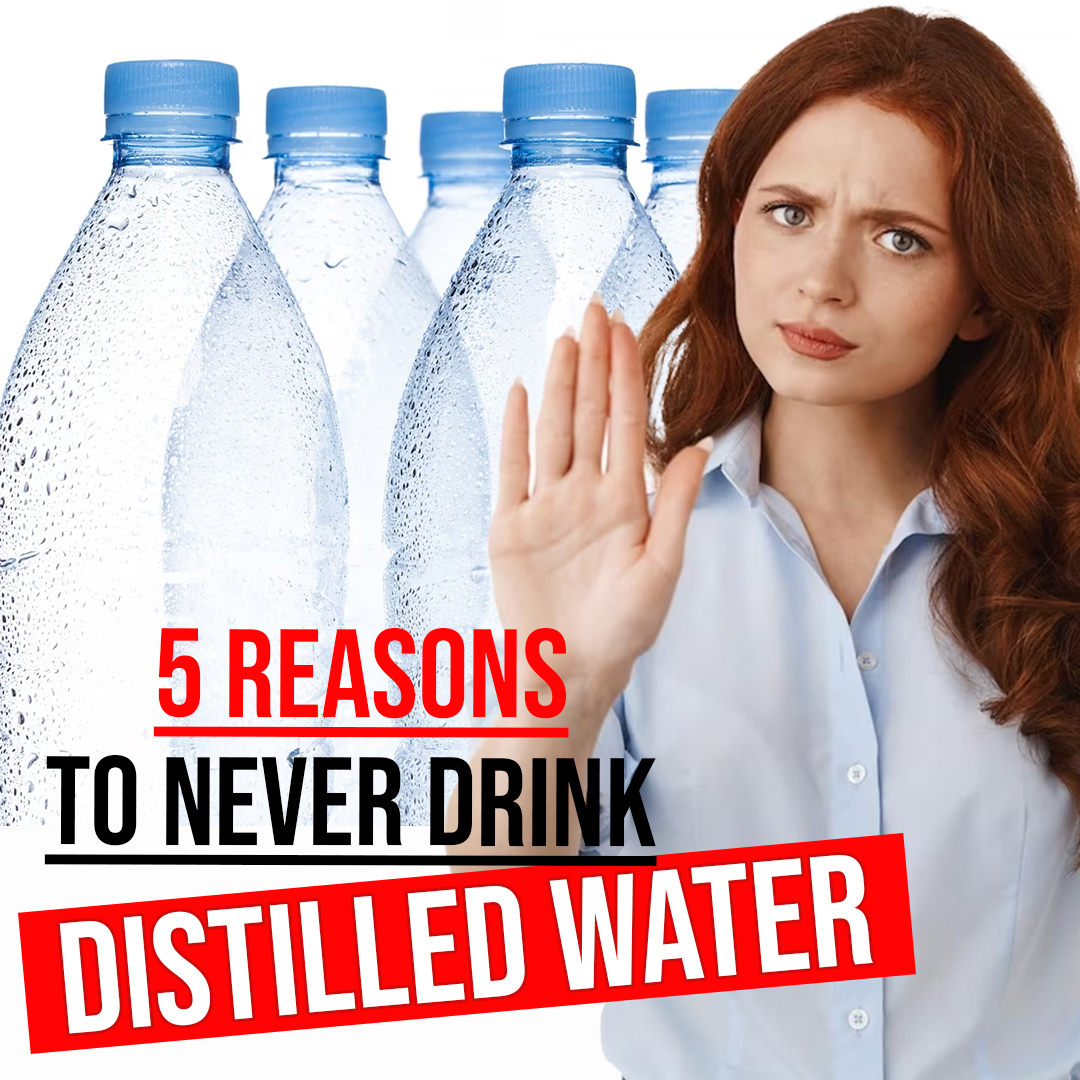 What is Distilled Water?
How Is Distilled Water Produced?
Top 5 Reasons to Never Drink Distilled Water
What is Distilled Water?
We've all heard of distilled water, but what is it and how is it produced?
Broadly speaking, distillation is the process of purifying a liquid substance. Assume you have a jug of water that contains toxic elements. You need to separate the water from the contaminants in order to make it safe to drink.
Distilled water is water that has undergone a filtration process. There are several methods of distillation, which share the same aim of separating the water from any impurities.
The water must be heated to boiling point, so that it becomes steam. The steam rises, and enters some form of condensing chamber, where the steam is cooled until it returns to liquid form again.
When the water changes from liquid to steam and rises, any impurities are left behind. The heat/evaporation/cooling/condensing process successfully separates the liquid from the contaminants. The result? Completely clean, contamination-free distilled water.
So what's the problem? Why are there so many reasons never to drink distilled water?
The danger lies not in the process itself, but in the effect of the process on the liquid, which makes distilled water a dangerous beverage.
How Is Distilled Water Produced?
Distillation is a water purification process that involves boiling and cooling water.
Water has a low boiling point. When exposed to heat, it transforms into vapor; or steam, as we often refer to it.
The boiling water kills viruses and bacteria, and as the steam rises, the contaminants are left behind.
Steam distillation can remove chemical impurities and soften hard water by removing mineral deposits such as calcium and magnesium.
Here, we start to see the big problem. Distillation of water doesn't just eliminate the bad stuff that you don't want to drink – chemicals and other harmful substances. The rub is that distillation cannot differentiate between 'bad' and 'good' elements. It means that distillation also robs the water of essential minerals needed for a healthy body.
Top 5 Reasons to Never Drink Distilled Water
Why should you avoid drinking distilled water? These reasons may convince you:
1. Distilled Water is Acidic
Acidity and alkalinity are measured in pH values. The scale ranges between 1 and 14 (pH value of 7 is neutral). If a substance measures anywhere between 1 and 6.9 on the pH scale, it is acidic. A substance with a measurement between 7.1 and 14 is alkaline.
It is widely recognized that a slightly alkaline state is far healthier for the body. We should all be mindful of what we eat and drink, in order to encourage a slightly alkaline state – particularly as the modern diet tends to be highly acidic.
Distilled water has a pH of less than 7.0. In other words, it is acidic – primarily because immediately upon exposure to the air, distilled water will absorb the available carbon dioxide. The longer it is exposed to the air, the more carbon dioxide it will accumulate, and the more acidic the water becomes, with the potential to fall below 5.5 pH.
The distillation process is a thorough one. Because all minerals and ionic substances are removed, the water has no buffering capabilities (the ability to maintain stable alkalinity) and is considered molecularly unstable.
As the US Environmental Protection Agency says:
"Distilled water, being essentially mineral-free, is very aggressive, in that it tends to dissolve substances with which it is in contact. Notably, carbon dioxide from the air is rapidly absorbed, making the water acidic and even more aggressive."
2. Dissolved Minerals Are Absent
The process of distillation removes all the beneficial electrolytes and trace minerals from distilled water, leaving it essentially neutral.
Remember, many nutrients found in water in small quantities are vital to human health, and mineral deficiencies can cause health problems over the long term.
Some common effects of mineral deficiency can include:
Dehydration – ironic, but true. Electrolytes in water are vital for regulating the distribution of water in the body. Distilled water contains no electrolytes
Magnesium deficient fatigue – lack of magnesium can also cause weakness, stiff joints and spasms.
Headaches – calcium and magnesium deficiency can trigger headaches
Muscle cramps – magnesium deficiency can lead to muscle cramping and tremors
3. Soft Drinks Are Made from Distilled Water
Soda is seriously bad news for health.
Terrifying facts swirl around the manufacture and consumption of soft drinks. They are a risk factor for obesity, osteoporosis, and diabetes and can also lead to high blood pressure.
A part of the reason is soft drinks use distilled water, which can sap the body of healthy minerals.
4. Acid Build Up & Lactic Acid Causes Aging and Disease
Aging is a natural biological process. No number of supplements or treatments can stop it. However, acid buildup can result in the natural aging process accelerating.
Lactic acid is a buildup of acid which then causes an imbalance of the body's pH level. As we mentioned earlier, the human body's ideal pH level is slightly alkaline as opposed to acidic.
According to medicalnewstoday.com: "free radicals are unstable atoms that can damage cells causing aging and illness."
Acidity can create free radicals and disrupt the way the molecules in your cells work. Free radicals can damage mitochondria and even your DNA.
When you know how acidity works inside your body, it seems that distilled water is the perfect substance to speed up the process of harming and damaging healthy cells. Why would you want to drink something that does this?
5. Alkaline Water Is a Readily Available Substitute
Distilled water has its uses – primarily in a medical setting when absolutely pure water is required for vulnerable patients, and crucially – the deficiencies of the distilled water can be monitored and controlled. It's also useful for sterilizing medical equipment.
However, drinking distilled water on a regular basis is not recommended.
The reality is that there is a far more beneficial alternative: alkaline water. Tyent alkaline water is bursting with bioavailable minerals and therapeutic molecular hydrogen to help support a healthy, strong body.
Tea & Coffee Made with Distilled Water? You'll Wish You Hadn't Bothered
There are clear risks associated with drinking distilled water. Your body needs water-borne minerals and to starve your body of them is counterintuitive.
Your health is everything – drink clean, safe, mineral-rich alkaline water and avoid the potentially harmful effects of drinking distilled water.
One final point – and it's an important one. The taste of distilled water reflects everything about it. It tastes flat, featureless and – some say – metallic. The lack of natural minerals and healthful ionic substances renders the taste of distilled water into a bleak nothingness.
"Distilled water is too soft (low in minerals) and will brew into flat-tasting tea."

The Spruce Eats
Tea and coffee made with distilled water will also taste flat. It's the minerals that coax the nuanced flavors out of other substances.
"In the case of coffee water, pure doesn't mean delicious. If you use distilled water to make coffee, it won't taste the way it normally does. This is because the minerals in tap water contribute positively to the coffee flavor!"

Coffee Affection
Would You Drink Distilled Water?
With these facts, would you still drink distilled water, when there is a healthful, delicious alternative out there? We'd love you to share your thoughts in the comments section below.
If you are interested in antioxidant-rich alkaline water and all the health benefits it provides, visit the Tyent Water Ionizer Buyer's Guide for more information.
Watch this video below and check out some surprising facts about distilled water!
This post was originally published on May 20, 2016, and has been updated in 2023 for quality and relevancy.